On Sale
Bacon Wrapped Filets
Do you want to impress the guests at your next gathering? Perfect for a romantic dinner for two or an elegant dinner party for your friends and family, our bacon-wrapped filets are sure to impress like no other cut. Grass-fed and grain finished, naturally lean, and incredibly tender, our 8-ounce filets are hand cut and wrapped with premium bacon for a flavor profile that will please the most discriminating palate.

Red and black angus genetics

Grass fed, grain finished

Never subjected to antibiotics, steroids, or added hormones

Hand cut by our Master Butcher

Wet-Aged for 28 days

Individually wrapped

Flash-frozen

Raised and grazed in the USA
Product ships frozen and will arrive frozen or cool to the touch. For more information click here.

*Consuming raw or undercooked meats may increase your risk of foodborne illness. The USDA recommends an internal temp of 145°F and resting for at least 3 minutes.
Ingredients: Beef
These products are processed in our plants in Nebraska, USA after undergoing a strict series of quality checks and under the supervision of the United States Department of Agriculture.
Customer Reviews
08/16/2021
Alfred W.

United States
Wonderful cut of beef and flavor
This steak was better than I expected. I didn't expect it to be so tender for a choice/prime grade steak. It def had a very good beefy flavor and extremely tender. My wife loved the filet was Juicy and tender. One of the best filets she has had in long time and we eat a lot of beef . I was very pleased with the quality of beef and quality of how it was packed for shipping. I will def be making more orders In cutie. I saw bearded butcher suggest them and he was dead on. Very high quality of beef and flavor you have to give them a try. Blows away any local butcher or super market steak by miles.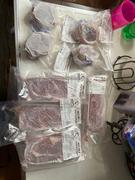 06/21/2021
Larry W.

United States
Great steaks
Tender, juicy and the bacon made for a wonderful presentation!
06/16/2021
Donna L.

United States
The Best Filet - no doubt about it!
Great filets - will definitely reorder
05/31/2021
Benjamin C.

United States
Great steaks
Although a couple of the steaks unfortunately had holes in the packaging upon arrival, the filet mignons are excellent.
05/24/2021
Yekta T.

United States
First Order
This was my first order from this farm. Everything was delicious! Certainly recommend it!
05/04/2021
Jeffrey S.

United States
Outstanding!
These were fantastic!
03/09/2021
David M.

United States
Bacon wrapped filet
Sent them to my son; his words were they were "f*cking" delishous. Kept the profanity out of this but he loved them. I have purchased your tri-tip steaks and they are phenomenal for a terrible cook. I work some with Lee Gibson with Relentless Pursuit so thank all of you at E3 for what you are doing for the great states of Kansas and Missouri. Stay strong, be well!!!
03/08/2021
Randy A.

United States
The Quality Continues
This is a favorite in our house. The Filet is tender everytime, with the flavor of bacon making it the perfect meal. Nice size steak for those who prefer medium portions. This is not a large steak, but it is a deeper cut that fills you up quickly. We have ordered these multiple times and continue to bat 1,000 on how tender and flavorful the steak is.
02/22/2021
Thomas B.

United States
GREAT STEAKS
Steaks were delicious. Will buy more and waiting on the rib eyes to be back in stock to try them as well.
02/15/2021
Jeffery P.

United States
Best steaks ever!!
The steaks are incredible!! They are extremely tender and can cut them with a fork
12/31/2020
Karen F.

United States
Bacon wrapped filet
It was a 10.We enjoyed them so much we purchased them for several friends for Christmas.They all said they were delicious.We are very satisfied and will be buying more. Thank you.
12/28/2020
Steve H.

United States
Excellent.
Made steak au poivre tonight. As my wife said, "This is fantastic!"
12/22/2020
BRIAN C.

United States
Thank you
Love the steak! Thank you for the hamburger as well. You have a fan!
09/22/2020
William S.

United States
Steaks were very tender and flavorful 8oz were enough for both of us.
Very good all around. Purchased two gifts orders for family no problem with delivery.
09/08/2020
Willim S.

United States
First time buyer
Excellent steak had great taste was every thing I had expected it to be.
07/14/2020
Sean O.

United States
No better Beef in the USA
I have purchased my beef from E3 for the past 3 years. Nothing compares to the quality. Trustworthy and reliable product